Why Green Homes are more preferable in Indian Real Estate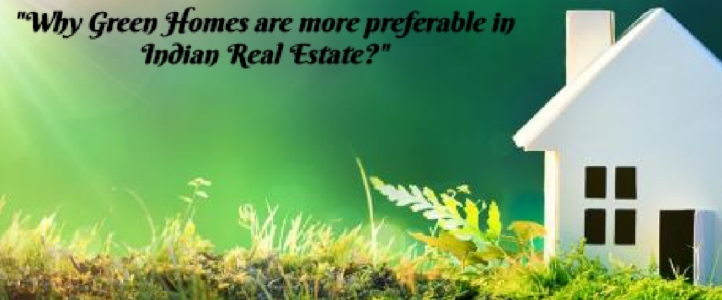 Real estate is the most solid security that human brilliance has developed. This is the basis of all security and is about the only durable protection ", which has been attributed to real estate market by Russell Sage.
Due to global warming and human activities, climate is changing rapidly. Air is becoming warm every day, in most of the continents, especially in the Indian subcontinent, it has increased. Level of carbon-dioxide is increasing due to high energy consumption and it also destroying ocean's sea life. Apart from the manufacturing industry, Demolition contributes 40%, the second largest amount of waste and the production of greenhouse gases.
Therefore, the use of environment friendly sources for renewable energy is the solution to all such bad effects. "Go Green" is the main motto of today's world. Indicates the protection of energy, reducing pollution and taking steps towards money saving.
Similarly, the real estate sector is adopting green building concept and architectural planning towards the most beneficial use of power and water conservation, energy efficient transport system, treatment of solid waste and recycling etc.
In the urban areas, the line goes down for the concept of Green on Dharana Bhawan can save the nation's huge power of 8400MW which can be used alternatively. Opposes to concrete making materials, large-scale cement production has been attributed through the release of carbon-dioxide, while we need to reduce the consumption of concrete.
Thus, real estate developers are selecting for sustainable development which meets the needs of the present time without compromising the requirements of future generations. In an environment friendly homes, the cost is reduced to a great extent. The upcoming trend of green houses for Indian real estate is new.
The Green House is a type of house that is designed to be an environment friendly and focuses on the efficient use of energy, water and building materials.
The main features are-
Limited energy and water consumption by facilitating more efficient water distribution and recycling system.
Double panel or low-emission windows provide thermal comfort and better ventilation.
The strategy for green homes should be healthy and pleasant.
Satellite-controlled sprinkler system that allows you to save water with efficient use of water and keeping your surrounding clean and green. Also keeping you informed about the local weather conditions.
Proper portion for ventilation. The new technique makes fresh air ventilation system make better indoor air quality by filtering the air and getting carbon dioxide out.
Building homes by taking building construction materials from forests which are constantly updated thus protect the world for future style.
Investors on affordable green homes earn good profits, because its costs are driven by savings, state governments offer incentives and a large number of developers are now greening their housing projects.
Benefits for buyers-
Health Benefits – The use of non-toxic material, the best ventilation system, thus creating a friendly indoor environment, the fresh air transmits indoors.
Environmental impact – Greenery fills positivity in one's mind. It reducing the negative impact on the environment, thereby reducing the operating costs to a large extent on the construction cost.
Green houses pave the way for panoramic views, noise control, excellent air quality and abundance of natural light, which is a better place for residents to live.
To get the conclusion, go for green homes, Keystone to wealth and emotional security.